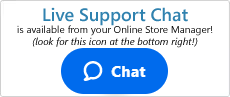 Knowledgebase
How Do I Change My Account's Billing Term?
Changing your billing term (from monthly to quarterly, semi-annually or annually) can save you money and stop the hassle of following up with monthly bills.
With Shift4Shop, this process is both easy and hassle-free. This article will show you how.
---
Changing your Shift4Shop billing term agreement:
To change the billing term agreement on your account, please use the following steps:
Log into your Shift4Shop Online Store Manager
From the admin dashboard, look to the bottom right of the left hand navigation menu and click on the $ icon
Next, under Current Plan, click on the "Change Plan" button
The "Change Plan Order Form" allows to either Choose a New Plan and/or to specify a New Agreement
Under the "New Agreement" section, select the new term, for example, "12 Month pre-pay agreement (15% discount)"
Click "Preview Order" to review all the details.
Check the "I agree" section.
Click on "Submit Order".
That's it! Our Billing department will apply the change and confirm the discounts associated to the new term selected.
---