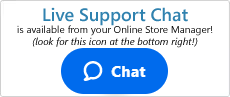 Knowledgebase
How do I set up Offline Payment Methods?
Shift4Shop allows you to set up payment methods which do not need a merchant account (such as Paypal, Checkout by Amazon or Authorize.net) to accept payments online. These are intended for when you'd like to accept money orders, checks, cash, or any other form of payments you accept for your store that are not credit card based.
Note:
For credit card orders, you must use an Online Payment method provided through a merchant gateway.
Offline Payment Methods
To setup Offline Payment Methods
Go to Settings >Payments
Under the "Payment Methods" section, click on "Select Payment"
Click on the "+Add New" button located towards the top right
Using the available fields, configure the following information:

Country:
This allows you to specify which Country this payment method will apply to
State:
This will allow you to specify which states of the Country selected this payment method will apply to
Payment Method:
Using the drop down menu, scroll to the very bottom of the list and select one of the pre-configured offline payment methods (Money Order, Check, Cash, COD, or Custom)
Order Amount Min/Max :
Use the Minimum and Maximum fields to create a range that this offline payment method will apply to.
Customer Group:
This will allow you to specify if this payment method should only apply to a certain Customer Group

Click on the "+Add" button to finish the initial set up.
These steps will complete the initial set up of the offline payment method. To fine-tune the same method, follow these next steps:
Settings
Scroll down to the bottom of the page until you reach "Additional Gateways" where you will see your newly added payment method.
Look to the far right of the method and click on the "settings" link.
From here, you can add additional requirements to the payment method as needed. For example, for checks, you may require the check number to be included on the order.
To request/require this:
Type in the name of the requirement you'd like to have.
Specify its length and make it a requirement if needed
You can click the "+Add" button on the requirements to add additional fields.
Note
The above steps will only work if you selected the "Custom" method instead of a pre-configured method. Pre configured methods like Check or Money Order will have their own fields created. Custom will allow you to add as many fields as you would like.
Advanced Settings
Clicking on Advanced Settings will allow you to edit the previous settings (mentioned above) as well as:
Confirmation Msg:
This is the message that the customer will see once they have completed an order using this payment method. You can use this field for additional instructions for this payment method (i.e. If it is a Money Order you can specify the address that the Money Order should be sent to)
Description:
This is the description that will display to the customer describing this payment method
---