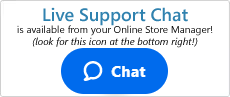 Knowledgebase
How Do I Use the Store's Social Links?
You can easily add Social Icons to your Shift4Shop site by simply providing the URL to your social media channels directly inside the Shift4Shop Online Store Manager. Here's how!
Tip
If you aren't using it already, Social Media is a great way to advertise your store and get exposure to millions of users. Best of all, most Social Media channels are free to sign up for! With the following information, you can link your store to:
Facebook
Twitter
LinkedIn
Pinterest
YouTube
Tumblr
---
Adding your Social Icons
Log into your Shift4Shop Online Store Manager and proceed with the following steps:
Go to Marketing >SEO Tools
Look for the "Social Bookmarking" section and enter the URLs for your specific Social Media channels.
Save your SEO Tools page
Your store will now have your Social Media Icons added to it.
---