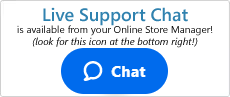 Can I add Meta Tags and Titles to my Product, Category and/or Manufacturer Index Pages?
For SEO purposes, your Shift4Shop store will automatically provide your store with several dynamic site maps including Product, Category and Manufacturer index pages.
These are created using product_index.asp, category_index.asp and manufacturer_index.asp respectively.
At this time, however, it is not possible to directly edit the title and meta tag information for these pages.
By default, these pages will use the Title and Meta tags present in your store's Home Page, which are accessbile by going to Content >Titles & Content and clicking "edit" for the Home Page.
---