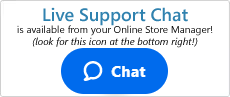 What Kind of Files am I allowed to Upload?
Shift4Shop allows you to create additional pages via the Site Content section. Alternately, you also have the ability to upload your own custom created web files to the store via FTP. However, please be aware that there are certain limitations in the types of files that can be added to your store.
Currently, only the following file types are allowed for uploading to your store:
Allowed File Types
Web Page Files
Image Files

*.jpg & *.jpeg
*.gif
*.png
*.bmp
*.tiff
*.tga

Document Files

*.pdf
*.doc
*.txt
*.rtf
*.csv
*.xls
*.ppt

Storage Files
The following file types are not allowed
Not Allowed
*.asp
*.aspx
*.pl
*.php
*.cgi

*.asa
*.htaccess
*.exe
*.bat
If a function of your site requires these specific file types, (such as a bulletin board or forum) the service will need to be hosted on a separate (3rd party) hosting platform and linked to your Shift4Shop site either through basic HTML linking or DNS changes.
Tip:
Another approach to uploading unsupported file types is to compress the file using a supported storage file type like *.rar or *.zip.
Just be sure that the file's extension (after being compressed) reflects the compression format rather than the file's uncompressed name.
---