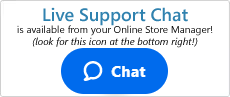 Knowledgebase
Why Am I Being Logged Out Of My Online Store Manager?
One of the security settings in your Shift4Shop Online Store Manager involves an automatic logout of the Shift4Shop Online Store Manager after a set period of inactivity. This way, a merchant's login to the Store Manager isn't inadvertently left open in the background while their computer is unattended - thereby preventing a possible security risk to their stores.
To set your store's Admin Session Timeout limit:
Log into your Shift4Shop Online Store Manager
Using the Left hand navigation menu, go to Settings >General >Store Settings
Once there, click on the "General" tab found along the top section of the page.
Then. look for the "Admin Session Timeout" setting to set the timeout option.
The default value is 20 minutes, meaning that the store will automatically log you out of the Shift4Shop Online Store Manager after 20-minutes of inactivity. However, you may set it to any increment provided in the dropdown menu.
Set your Time Out Limit
Additional Information
Your session time out limit options are:
10 minutes
20 minutes (default)
30 minutes
1 hour
2 hours
4 hours
8 hours
Click "Save" at the top right to commit your changes
Your store's admin will now adhere to the set timeout limit specified.
---