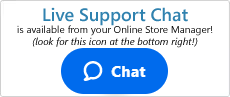 How do I add banners to my website?
If you have special advertising or affiliation banners that you'd like to add to your store, you can add them easily to the store using the Header & Footer section.
To get to this area of the Shift4Shop Online Store Manager,
Log into your Shift4Shop Online Store Manager
Using the left hand navigation menu, go to Content >Header & Footer
From here, you can use either the Global Left Banner, Global Right Banner or the Global Footer sections to add your banners.
Notes:
If using the global left or right banners, make sure that your store's selected theme has these banners enabled. You can selectively choose which pages the left and right banners are displayed on using the Settings >Design >Titles & Content section of your Shift4Shop Online Store Manager.
If the banners contain logos that are in the form of actual images, you will first need to upload them to your store using the File Manager. After the images have been uploaded to your site, you can enable WYSIWYG to place the images as you desire.
On the other hand, if the logos are provided to you in the form of a script or HTML coding, you will need to use the "HTML" option in WYSIWYG mode to copy/paste the coding into your selected banner.
After adding your logos, be sure to enable the global banner you selected, to make sure it displays on the live site.
---