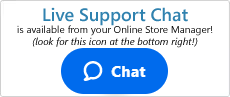 Why won't my meta-tags save?
This is a common issue that occurs when you try to add your own cutom meta-tags to your products so that they are directly compatible with social media sources like Pinterest, instagram and other services.
When saving the edited meta tags, the system will either advise you that the meta tags are not formatted properly, or otherwise won't save the meta data at all.
This is happening because the store - by default - validates the meta tag information to ensure that it is SEO friendly. In some cases, social site meta tagging is specific to the social media service that it is coming from and the store's validation doesn't recognize it. This is not to say that the meta data is incorrect, but rather that the store's validation doesn't recognize it and prevents it from saving.
Fortunately, you can override this validation. Although it is not recommended, you're free to do so as you see fit.
To override meta tag validation,
Go to Marketing >SEO Tools
Look for the Meta Tags section (Right after Sitemap)
Place a check in the "Override Meta Tag Editor Validation" checkbox
Save
The store will now honor whatever meta data you use for your products.
---