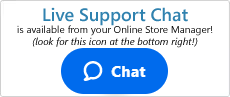 How do I Print Shipping Labels on a Thermal Printer?
As mentioned in a previous article, Shift4Shop allows you to print shipping labels for your orders directly from the Online Store Manager. However, it should be noted that the "Print Label" function inside the label manager is mostly intended for ink jet printed labels.
If you are using a thermal printing device which is set to print on a smaller, self adhesive label, the process will be slightly different than just clicking on the "Print Label" button. The following instructions should help describe the process for printing on Thermal Print devices.
---
Generating Your Thermal Printer Shipping Label
The first step in the process is to generate the shipping label as describe in the Shipping Label tutorial. Then, when you're about to actually generate the Shipping label:
Select the desired Shipping Label size for your thermal label printer
Click OK to generate the label.
The label manager will provide you with a tracking number along with two buttons labeled "Get PDF" and "Print Label" respectively.
For Thermal Label printers, select the "Get PDF" button to view the PDF formatted version of the label.
Additional Information
The "Print Label" button is mostly intended for ink jet printing devices becuase it will print out the label on a standard 8.5"x11" sheet of paper. This version of the label will also include directions as to how to afix the label onto your packaging
For thermal printing devices however, it is necessary to use the PDF file since it contains only the label and is therefore easier to conform to the printer's configured label size.
Tip
Depending on your browser and available add-ons, you may get a popup view of the PDF (Chrome & Firefox) or otherwise get it downloaded and saved to the desktop (IE). Printing from the browser popup can be tricky if using Firefox, so it is recommended to save the file to desktop.
Chrome may be easier to use since it usually opens PDFs in your computer's default PDF viewer; which means you can skip to step 6.
Right-click on the PDF and select "Save Page As" to save the label in PDF format.
The PDF will be named with the tracking number for reference.
(i.e. 945821020883791503694.pdf)
Note
The screens used in this article are for a Zebra Thermal Printer, but most thermal printers will have similar (if not identical) settings.
Open the PDF file and go to File >Print
Click on Properties just to check the print out sizes on the PDF reader
After checking the label's print out size, click OK
On the Print Screen window, be sure to select the "Fit" option in the "Page Sizing and Handling" section as shown.
Click Print when ready
Your label should now conform to the set parameters for your thermal printing device for "Peel and Ship" labeling.
---