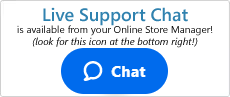 Knowledgebase
How do I integrate my Store with Canada Post for Real-Time Shipping Calculation?
Your Shift4Shop store can be integrated with the main shipping carriers in order to provide your customers with real-time shipping calculations for their orders.
This guide will show you how to set up your account registrations with Canada Post and then integrate your credentials to your Shift4Shop store.
Note
The following instructions will allow you to register with CanadaPost directly from your Online Stire Manager. However, if you are already registered with them, the steps will be the same.
---
Adding your Canada Post credentials to your Shift4Shop Store
Log into your Shift4Shop Online Store Manager
Using the left hand navigation menu, go to Settings >Shipping
Click on the "Enter Settings" button located under Shipping Settings
Next to the Canada Post section, click on "Enter Credentials"
Click on the "Register with CA post"
Fill out and submit the registration form to create the account.
At this point, you can register for CanadaPost using the sign up form provided by them. If you are already registered with them, just sign into your account to proceed with the integration.
Note
When signing up for CanadaPost, please register with their Business Account oferring. In order for the real-time shipping calculation integration to work properly, you need to specifically get a "Retailer ID" from Canada Post. Hence the need to sign up for a Business Account with them
Once you have registered your Canada Post account, return to the Shipping Settings section of the Shift4Shop Online Store Manager and proceed with the following step
Click "Save" on the lower right hand corner of the "Enter Credentials" screen
Your store is now integrated with your Canada Post account and credentials.
Tip
When entering your Canada post credentials, you will have a checkbox, that will allow you to have your product weights and measurements converted to Metric Units if desired. Otherwise, these units will be passed to Canada Post as Standard units.
---