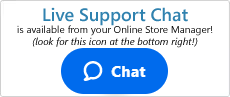 Knowledgebase
How do I integrate my Store with DHL for Real-Time Shipping Calculation?
Your Shift4Shop store can be integrated with the main shipping carriers in order to provide your customers with real-time shipping calculations for their orders.
This guide will show you how to set up your account registrations with DHL and then integrate your credentials to your Shift4Shop store.
Note
This process will involve first registering an account with DHL and then filling out a request form on DHL's service for third party API permissions. More information on this can be found below.
---
Register with DHL
To register your DHL account, please follow these steps:
Click here to register and open an account with DHL
Once you have opened an account, click here to request third-party API permissions.
The necessary API permissions used for DHL/Shift4Shop integration are provided through a third party XML service called AIVEA eShip Web Service. This process will involve filling out a contact form on DHL's services which will request specialized assistance on setting up the vendor support for your account.
Fill in your information. Under "Vendor Name" type in AIVEA
Submit your form.
Once the form has been received, you will receive information regarding your API profile. (ID, Password, etc). This information will then be entered into your Shift4Shop Online Store Manager.
Note
This information may take up to 5 days to receive from DHL. Please contact DHL's support if it takes longer.
Once you receive this information, reply back to DHL to switch your account to production.
Additional Information
Your production move request/reply can look something like this:
"I'd like to ask you guys to switch my account to the Production Server.
---
Adding your DHL credentials to your Shift4Shop Store
Once you have registered your DHL account and have received your AIVEA API information, proceed with the following steps to integrate them into your Shift4Shop Store.
Log into your Shift4Shop Online Store Manager
Using the left hand navigation menu, go to Settings >Shipping
Click on the "Enter Settings" button located under Shipping Settings
Next to the DHL section, click on "Enter Credentials"
Enter your DHL Express account number in the provided field
Click "Save Settings" at the bottom of the page.
Your store is now integrated with your DHL account and credentials.
---