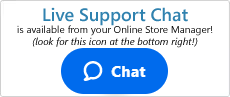 Knowledgebase
How do I use reCAPTCHA on my site?
As an alternative to the default CAPTCHA method used by Shift4Shop, Merchants can also use Google's reCAPTCHA™ service instead of the default Shift4Shop CAPTCHA verification methods.
The following article will describe how to enable this feature
---
Enable reCAPTCHA™
Log into your Shift4Shop Online Store Manager and, using the left hand navigation:
Go to Modules
Search at the top for the "reCAPTCHA™" module and place a mark in its "Enabled" checkbox.
Click "Save" at the top right to finish enabling the module.
reCATCHA Settings
Clicking on the "Settings" button of the module will give you the following configuration options.
reCAPTCHA™ Size

Normal
The CAPTCHA button will be shown in its normal format as shown below

Compact
The CAPTCHA button will be shown in a slightly more compact version like this

Invisible
This option will perform CAPTCHA by way of the browser itself thereby removing the need for the user to click on anything. Instead, the browser will display the following badge at the bottom right corner of the window.


reCAPTCHA™ Theme

Light
The default theme look for the CAPTCHA selection.

Dark
A darker theme for the CAPTCHA selection


reCAPTCHA™ Type
While the point of reCAPTCHA is to minimize user interaction, this setting will come into play if there are too many connections to the reCAPTCHA service from the same connection/IP address. In these circumstances, the user may be asked to provide an additional verification step.

Image
The user will be shown a graph of images and asked to select images with a common element.

Audio
The user will be given an audio file to play and then type the content of the audio in the provided field.


Again, this typically will happen if there are too many connections to the reCAPTCHA service from the same connection or IP address. Most often it is seen by users in an office or other type of network connection where the connection's IP may be shared across multiple users within the same organization.
---
Why is reCAPTCHA not appearing?
If reCAPTCHA is not appearing on your site, there are two common causes to check for:
Incorrect coding
reCAPTCHA requires specific coding that may not be present if your theme is older or if it contains customizations. Always make sure you are using the latest templates for your site (or copy the coding from common folder to your existing templates.)
Using Invisible reCAPTCHA
Remember that Invisible reCAPTCHA is - as the name implies - intended to be less intrusive than the other forms of reCAPTCHA. Therefore, look toward the bottom right hand side of the browser window to make sure reCAPTCHA is showing properly.
---