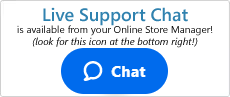 Knowledgebase
Can I add Disqus to my Blog?
Shift4Shop has made it easy to integrate your Shift4Shop blog with Disqus for to offer you more robust blog commenting functionality.
---
What You Will Need:
Adding your Shortname to your Shift4Shop Store
After signing up and setting up your Disqus account, you will be given your Disqus account's "Shortname." This is a unique identifier that is used on Disqus to identify which site(s) you are using for blog comments. It will be needed for the next steps:
Log into your Shift4Shop Online Store Manager
Go to Content >Blog
Next, click on the "Blog Settings" button at the top right
Place a mark in the "Use Disqus Comments" checkbox
Enter your shortname in the "Disqus Shortname" field.
Click Save Settings at the top right.
Congratulations! Your Shift4Shop powered blog is now using Disqus Comments for its commenting system oferring both you and your visitors a more robust and lively commenting experience.
Note
If both checkboxes for using Shift4Shop's built-in comment system and Disqus are checked, the store will typically use the Disqus commenting system as long as a shortname is specified.
---
Sharing Your Blog URLs
Be aware that Disqus is very dependent on the URLs that are used when comments are entered into a blog posting. Therefore, before sharing your blog postings with your Social Media channels, be sure that you are NOT viewing the post via its "preview" link inside the Shift4Shop Online Store Manager.
The reason for this is that the Preview Link will add action strings to the URL since it is coming from within the admin control panel. The preview URL will be similar to yourdomain/blog.asp?id=x&action=post&draft=1
If you were to share the URL in this format on Social Media channels, any Disqus comments left on the article will only be seen when viewing the article via this same exact URL. This means that anyone organically navigating your articles will not see the Disqus comments left on it from people
Instead, navigate directly to your blog posting organically (as your normal site visitors will) and share the resulting URL to social media channels.
---