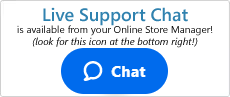 How do I cancel my Shift4Shop service?
Cancelling your service with Shift4Shop is both easy and hassle-free and this article will show you how. But before we get to those steps, perhaps there's something specific that we can still help with?
Please consider the following:
---
Can't find a feature you need?
We feel we've got a pretty full and feature rich platform to work with. Although we've tried very hard to make sure all the bases are covered, there's always a chance that a specific feature you need isn't available on the software just yet. If so, fear not! We've got several options available to you in this area as well.
Check out our App Store where many of our additional plugins and 3rd party integrations are listed for use.
Speaking of 3rd parties, did you know that Shift4Shop has the ability to use full API access? This means that many software providers and even developers can write programming that connects their software to your store to give you options specific to your needs! If you have need for an application that's not currently listed in our App Store, contact that app's manufacturer and let them know about our partner sign up form.
We also offer merchants the ability to make feature requests within the Store Manager. Simply log-in, and click on the What's New button at the top of the screen to bring up a sidebar with our release notes. On here, click on Feature Requests to bring up our feature requests section where you can make requests (and vote on others) for our Development Team to review!
---
Need a different kind of Plan?
If you're a Legacy merchant of ours, you may want to consider switching to our End-to-End plan. Depending on your business, it may prove to be much cheaper! For more details, contact our Support Team for more information.
---
Not getting any sales or traffic?
There are various SEO experts can consult you on what might be missing. Marketing and SEO processes are the cornerstone of successful online sales, so let a team of SEO and marketing experts work on your store and get you the traffic you need!
Interested in this option?
Contact some of our recommended SEO Experts today!
---
Don't have the time or skills to knock out a great design?
We admit it; design can be a pretty daunting task. While we have built-in options to try to make HTML and CSS design as easy and as user-friendly as possible, it can still be pretty overwhelming. So if you're stuck on the design aspects, look into our extensive network of 3rd party design and development houses. They are already familiar with the Shift4Shop system and can help you make your vision come alive!
---
Still need to cancel?
Well okay then. We just wanted to make you aware of the above alternatives just in case we could still be of help. Can't fault us for tryin'! We'd love it if you stayed with us, but we understand Shift4Shop might not be right for everyone.
So if you'd like to cancel your account, please do the following:
Log into your Shift4Shop Online Store Manager
Go to the bottom of the left hand navigation menu and click on the $ Icon to get to your billing screens
Under the services section you'll see your domain name and plan details.
Look towards the far right of the listing and click "cancel" to review the cancellation instructions.
That's it!
We'll definitely be sad to see you go, but just know we'll still be here if you ever need us again in the (hopefully near) future!
Note
If your account is brand new, you might not see information in the billing section. Please allow at least 24 hours from sign up/provisioning for the My Billing information to appear.
---
Reactivating an Account
If you have previously canceled your Shift4Shop service and would like to see about reactivating it, please submit a billing ticket so we may assist you.
---