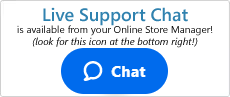 What is the "Calculate Shipping By Value After Discounts" setting under Shipping Settings?
In your Shift4Shop Online Store Manager, you will find a series of Shipping Settings that can be found by going to Settings >Shipping and then clicking on the "Edit Settings" button under the "Shipping Settings" section.
Once there, click on the + Icon next to "General Settings" to reveal a series of checkboxes. Within this area you will see a checkbox titled "Shipping By Value -- After Discounts"
Along with real time shipping calculation (provided by shipping carrier services), you can also set up flat rate/ranged shipping methods on your store. These are called "Custom Shipping" methods. (Click here for more information)
One of the four available custom shipping methods is called "Custom by Value" and it allows you to set range specific shipping rates based on the total value of the order. For example, orders for $0 to $5 can have a flat rate shipping of $2.50, orders ranging from $5.01 to $10 can have a flat shipping rate of $5.50, and so on.
By default, the custom shipping quotes provided for the "Custom by Value" shipping method are provided based on the total price of the item(s) ordered before discounts are applied.
By enabling this checkbox, your Shift4Shop store will instead factor the order's "Custom by Value" shipping rate based on the total of the order after dicounts have been applied to the order. Perhaps an item is listed as being On Sale, or maybe a special promotion you offer is bringing the order's total to fall within a different Flat Rate range. In either case, the setting described here will factor custom shipping costs based on the new total.
Additional Information
This setting will only have effect if your store is specifically using the "Custom by Value" shipping method. This setting will have no bearing on your store in regards to real time shipping calculated methods.
---