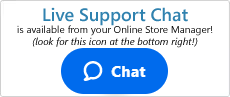 How does the "Preview all shipping methods" setting under Shipping Settings work?
In your Shift4Shop Online Store Manager, you will find a series of Shipping Settings that can be found by going to Settings >Shipping and then clicking on the "Edit Settings" button under the "Shipping Settings" section.
Once there, click on the + Icon next to "View Cart Shipping Preview" to reveal a series of checkboxes. Within this area you will see a checkbox titled "Preview all shipping methods"
In a previous article (located here) we described the basic function of your Shift4Shop Store's Shipping Preview option. The "Preview all shipping methods" setting described here will work in conjunction with the Shipping Preview option by allowing you to dictate if all shipping methods are previewed, or if you'd like to have only one shown to your shoppers.
Note
It is important to note that the Shipping Calculation Preview is a quick estimate of the shipping costs and may not reflect the full shipping charges applicable to the order. Actual shipping rate quotes may change when proceeding to the rest of the checkout process.
When set to Preview All Shipping methods, all of the order's applicable shipping methods on your store will be displayed.
Additional Information
If you elect to not show all shipping methods in the preview (by removing the check mark from the box), then the preview will display the cheapest rate for your shipping services.
---