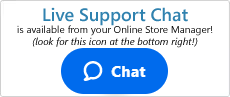 What does the "Hide Shipping Preview" setting under Shipping Settings do?
In your Shift4Shop Online Store Manager, you will find a series of Shipping Settings that can be found by going to Settings >Shipping and then clicking on the "Edit Settings" button under the "Shipping Settings" section.
Once there, click on the + Icon next to "View Cart Shipping Preview" to reveal a series of checkboxes. Within this area you will see a checkbox titled "Hide Shipping Preview"
Your Shift4Shop store by default will have a shipping cost preview added to the store's "View Cart" page. When available, the Shipping Preview function will be listed on your store's directly below the Apply Coupon field. When your shopper adds their U.S. Based Zip Code into the field, a quick calculation will be made. Marking the "Hide Shipping Preview" checkbox will remove the option from your store's View Cart Page.
Note
It is important to note that the Shipping Calculation Preview is a quick estimate of the shipping costs and may not reflect the full shipping charges applicable to the order. Actual shipping rate quotes may change when proceeding to the rest of the checkout process.
This preview option is useful in that it gives your shoppers a quick estimate of how much their order will cost to ship before proceeding to the full checkout pages. However, if you'd like to remove the option, simply mark the checkbox and save your changes.
---