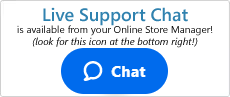 Knowledgebase
What is the "Max Box Weight (Lbs)" setting under Shipping Settings used for?
In your Shift4Shop Online Store Manager, you will find a series of shipping configuration settings by going to Settings >Shipping and clicking on the "Edit Settings" button under "Shipping Settings." Once you arrive to the page, click on the + icon next to Package Settings to see the various options available to you.
Within this list, you will see a number field titled "Max Box Weight (Lbs)."
When using your Shift4Shop store's real time shipping calculation quotes from the carrier, this field will determine the maximum weight contained in each box before requesting a quote for multiple boxes. For example, some carriers may limit their maximum shipping weight as 75lbs, which means an order that weighs 1 to 74lbs will factor a shipping quote for one box, whereas a 100lb order will need to be quoted for two boxes.
Real Time Calculation
When you integrate your Shift4Shop store with a specific shipping carrier like USPS, your store will be able to connect to the carrier and calculate a relatively accurate shipping cost for your shoppers and their orders.
To explain how it works; when an order is placed, the store takes into account where the order will be shipped from (you or your drop shipper's location), where the order is going to (your shopper's address) and how much the order will weigh (all item weights summed). Shift4Shop's software then sends this information to the respective shipping carriers and requests a quote of the shipping rates for the order. Once the rates are received, they are added to the order's selection areas and your shopper can select which method they'd like to have their shipment sent through. We refer to this as a real time shipping calculation.
The "Max Box Weight" setting described here will also factor how many boxes will be used to ship the order and request the calculated rate from the carrier based on the number of boxes used as well.
By default, this setting will be set to the number 75. However your specific carrier may allow for larger shipment weights, so you should check with your carrier's limits and set this field accordingly.
Note
Although the label of this setting mentions (Lbs) as the weight denomination, please be aware that the actual weight measurement (Standard or Metric weight) is ultimately determined by your carrier. Therefore, the number entered here is not specifically pounds, grams, kilograms or any actual weight measurement, but rather a number that is sent to your carrier for calculation.
This is important to note for merchants who use shipping calculation provided by metric based services like Australia Post where the maximum bog weight number should ideally reflect grams.
---