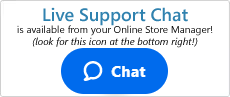 How do I use the "Free Shipping - Domestic Only" option in the Shipping Settings page?
In your Shift4Shop Online Store Manager, you will find a series of Shipping Settings that can be found by going to Settings >Shipping and then clicking on the "Edit Settings" button under the "Shipping Settings" section.
Once there, click on the + Icon next to "Free Shipping Settings" to reveal a series of checkboxes. Within this area you will see a checkbox titled "Free Shipping - Domestic Only"
This option will limit your store's automatic Free Shipping function* so that it applies only to your store's domestic orders. International shipping charges can be expensive, and having this setting enabled will limit the free shipping so that it applies only to shoppers in your country of origin.
Additional Information
*The automatic free shipping function itself comes into play when your shopper orders an individual item that is marked for free shipping (under the product's Information Tab), or otherwise if their entire order meets eligibility for a Free Shipping promotion via the store's Promotion Manager.
---
So, how do I specify my Domestic area?
Your store's Domestic Shipping area will be controlled by the Country specified in your store's Shipping Origin section. This section can be found at the top of the Shipping Settings page and it will be labelled "Shipping Origin." Click on its + Icon to expand the selection and enter your Country of origin in the provided area.
Additional Information
Domestic shipping will also be considered for any States/Provinces which are added to the Country in your Shift4Shop Online Store Manager. This is important to consider if your country contains locations/territories that you may not want to consider as part of your "Domestic Free Shipping" scenario. For example, here in the U.S. we have two states (Alaska & Hawaii) and a few territories (Puerto Rico, Guam, U.S. Virgin Islands, etc) which are not part of the continental United States. Therefore, merchants may want to limit "Free Shipping" so that it does not apply to those areas.
At present time, the only way to limit these types of areas from the automatic Domestic Free Shipping function would be to remove these areas as States or Provinces. However, this would also affect your store's ability to use your configured shipping methods for these areas as well.
A possible alternative to this limitation would be to only offer Free Shipping by way of a carefully configured store promotion (via the Promotion Manager) which excludes these areas from being eligible for the promotion in the first place.
For more information about your Shift4Shop Store's shipping countries and states, please review the following KB Article, located here.
---