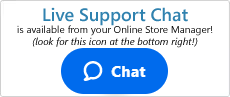 How does the "Free Shipping - Exclude Add. Options" setting in Shipping Settings work?
In your Shift4Shop Online Store Manager, you will find a series of Shipping Settings that can be found by going to Settings >Shipping and then clicking on the "Edit Settings" button under the "Shipping Settings" section.
Once there, click on the + Icon next to "Free Shipping Settings" to reveal a series of checkboxes. Within this area you will see a checkbox titled "Free Shipping - Exclude Add. Options"
This option will automatically hide any of the configured shipping methods in your store (which usually require payment), if the order itself is eligible to receive the store's automated free shipping function*.
Additional Information
*The automatic free shipping function itself comes into play when your shopper orders an individual item that is marked for free shipping (under the product's Information Tab), or otherwise if their entire order meets elligibility for a Free Shipping promotion via the store's Promotion Manager.
This function can be useful in the following ways:
Streamlining Checkout
When the order is applicable for free shipping, this setting will automatically display (and select) the Free Shipping option for your shopper, thereby making their transition to final checkout quicker.
Minimize checkout "surprises"
Since the Free Shipping option is the only one displayed in a free shipping order, this setting can also help prevent your shoppers from inadvertently selecting a regular shipping method (thereby incurring a shipping cost), which may lead to abandoned carts or refund requests.
Control
Alternately, this setting also offers a bit of control for situations where you want to actively

dictate

how the Free Shipping order is eventually sent to the shopper. This can minimize situations where your shoppers may be eligible for Free Shipping, but they select next day air in an effort to receive their order quicker and still request/expect you to honor your store's Free Shipping designation for a quicker delivery. By not allowing the store to display your alternate (paid for) shipping methods at Checkout, you can avoid shoppers seeing other shipping methods which are possible through your store.
Tip
The automatic Free Shipping function is not a shipping method you need to set up in your store's shipping settings. Instead, it is added to the checkout process automatically if the order itself meets free shipping eligibility. As mentioned, this eligibility can be either for orders of products which are individually marked as "Free Shipping" in the Information Tab, or if the entire order applies to a "Free Shipping" promotion.
The default wording of the automatic Free Shipping method is simply the phrase "Free Shipping." However, you can change this to your liking in the Shift4Shop Online Store Manager's "Store Language" section. The Store Language section can be found by going to Settings >Design > Themes & Styles. From here, scroll down to the Store Language section. Just perform a CTRL-F search on your browser for the phrase "free shipping" to find the section.
---