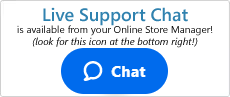 What exactly does "Auto Select Shipping" under Shipping Settings do for my store?
In your Shift4Shop Online Store Manager, you will find a series of Shipping Settings that can be found by going to Settings >Shipping and then clicking on the "Enter Settings" button under the "Carrier Settings" section.
Once there, click on the + Icon next to "Shipping Settings to reveal a series of checkboxes. Within this area you will see a checkbox titled "Auto Select Shipping"
This setting applies when you have only one shipping method enabled for your entire store. Rather than having the cart take your customer to the "Select Shipping" page of the checkout process to redundantly select the only available option; this setting will automatically select the available shipping option and skip that portion of the checkout process altogether.
Note
The Auto Select Shipping option will only apply for stores which are using the multi-page checkout setting in your store. It will also work on your store's Phone Orders.
This function will have no bearing whatsoever on your store if you have multiple shipping methods available or if you are using the single page checkout option.
---