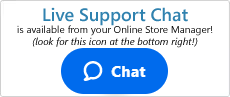 Which USPS Priority Mail International Flat Rates does my Shift4Shop store calculate for?
As mentioned in a previous article, your Shift4Shop store can be set up to return shipping rate calculation for several methods specific to the individual carriers.
In the case of USPS there are three separate Flat Rate International methods. These are:
USPS - Express Mail International (EMS) Flat Rate Envelope
USPS - Priority Mail International Flat Rate Box
USPS - Priority Mail International Flat Rate Envelope
On the USPS side of things, these methods may also have different rates depending on the size of the package(s) being sent. However, please note that your Shift4Shop store will be calculating for the largest method available on the USPS service. Therefore, the rates returned will reflect rates for the larger of the possible packages.
---