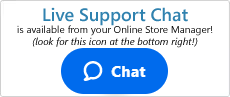 How do I use the External SMTP server function for my store emails?
If you have an external SMTP server that you would like to use for your store's webserver emails, this module allows you to enter server and login information for the external service
Log into your 3dcart Online Store Manager.
Using the left hand navigation menu, go to Modules
Use the search bar at the top to locate "External SMTP Server"
Then, click on the "Settings" link for the module
Enter the host, port, SMTP username and API Key (or password)
Click "Save" at the top right to commit your changes.
All of your store's emails will now be sent through the external SMTP service.
Additional Information
Note that this does not affect your store's newsletter and marketing emails and does not affect your regular email service in any way. This module will only affect basic emails that are coming from your website. These types of emails are typically referred to as "transactional" emails and include things like your order confirmation messages, form submittal confirmations, etc. Password Reset emails will always be sent via Shift4Shop's servers and not your SMTP server, so please keep this in mind.
What is the IP Address of the SMTP server used for my outgoing order notifications ?
The outgoing emails from your online store are not sent out by a specific mail server as the emails are being sent out by a pool of servers using a round-robin selection process. The emails will be coming from different servers at any given time. We cannot give out the IPs of the pool as this is a security risk and against policy.
---