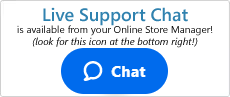 How do I set up Meta Tags?
Shift4Shop makes it easy for you to have SEO meta tags on your web pages. Furthermore, your meta tags can be fully customized as you please.
Meta Tags
Meta elements provide information about a given webpage, and are most often used to help search engines categorize pages correctly. By design, they are often inserted into the HTML code but are not visible to a user looking at the site. The most commonly used meta tags are meta descriptions.
The "description" meta tag provides a concise explanation of a web page's content. This allows the webpage author to give a more meaningful description for listings than what might otherwise be displayed if the search engine was to automatically create its own description; based on the page content. The description is often, but not always, displayed on search engine results pages, so it can impact click-through rates as well. The major search engines also consider keywords located in the description meta tag when ranking pages.
Some other meta tags exists (such as an Abstract or Keywords) but there are others mostly used for internal controls, like author, channel, date, etc. There's also a robots meta tag which is really only useful when you want to exclude your web pages from Search Engines.
---
Setting up the Meta Tags
Product Pages
Shift4Shop helps dynamically create custom meta tags for all your product pages as you're actively adding products. This function uses the information from the product name, category, description and keywords fields (found in the Product's Information Tab) to create the description and keywords meta tags.
You also have the ability to manually specify your own custom meta tags for each product if you wish. This can be done from your Online Store Manager by going to the product's Meta Tags tab located on each product listing.
Note:
You can also use the Tag Wizard which helps you creating the meta tags with the proper HTML format.
Category Pages
The meta tags for your Category pages can be set up from the Online Store Manager by going to Products and clicking on the "Categories" button located at the top right of the page. Hover over your selected category, and go to the far right of the listing to click on its "Details" link.
Once there, you will see the meta tags field within the "SEO Title and Meta tags" section; just above the Product Display area.
Tip:
If you're well-versed in using the CSV files from your store; you can also use update your Product and Category meta tag information using Shift4Shop's built-in CSV import functions.
Just be sure to use the proper formatting of the meta tags (as one line of data) within the appropriate CSV column. Here's an example of what it should look like:
<META NAME="DESCRIPTION" CONTENT="[insert your description information]
For the Product CSV, the column is labeled simply "metatags"
For Category CSV, the column is labeled "category_meta"
Aside from your Product and Category Pages, you can also edit meta tags for just about every page on your store.
Home Page
The home page meta tags can be set up from your Online Store Manager's Content >Titles and Content section. Once there, you should see an alphabetical listing of your store's main pages. Look for "home" and click on its "Action >Edit" button (at the far right) to access the meta tags section for the page.
Content Pages
For site content pages like About Us, Contact Us, Terms and Conditions and others, meta tags may be specifed by going to Content >Site Content and clicking the "Action >Content" button for the respective page. As with Titles and Content section, you also have the ability to use the Tag Wizard on Site Content pages in order to help you format the meta tags properly.
Blog Articles
Finally, for Blog Articles you can specify meta tag information by going to your Online Store Manager's Content >Articles page and clicking on the "Action >Edit" button (At the far right) for the respective article. When viewing the article, clcik on its "SEO" button to access the meta tags section (including the Tag Wizard").
---
Similar Quesitons
How do meta tags work?
What are meta tags?
How to I add meta tags to my store?
---