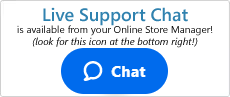 How do I set up local free pickup?
How do I set up local free pickup?
Some merchants may want to offer local pick up for orders where customers are given the option of picking up their order in person. The easiest way to do this is to use the custom shipping method labeled "Custom by Zip"
Here's how:
Log into your Shift4Shop Online Store Manager
Using the left hand navigation menu, go to Settings >Shipping
Look for the section labeled "Shipping Methods" and click on its "Select Methods" button
You will see your store's currently configured Shipping Methods and a section beneath labeled "Additional Shipping Methods." Scroll down the page until you see the "Custom" section (just above Royal Mail and Parcel Force)
Click on "+Add Methods" under the Custom section
Select your Country and State that the shipping method(s) will apply to.
Place a mark in the "By Zip" checkbox
Click on the "+Add" button to add the method.
Now that you've added the By Zip custom method, your final step involves adding your local area ZIP codes to the ranges of the shipping method. This way the option will appear only for orders shipping to that area. (i.e. your local customers)
Locate the custom shipping method you just created and click on the "Settings" link listed to the far right of it.
In the Caption field, replace "By Zip" with your own name for the method
(For example, "Free Local Pickup")
In the markup field, add the cost of shipping for this method
(Although, since you're oferring free local pickup, you should leave this at 0)
Next, click on the "Advanced Settings" link
Then click on the "Edit Zip Codes" link
Here's where you will enter the individual zip codes that will be eligible for custom shipping method
Look to the top right of the page and click on the "+ Add New" button
Enter the first zip code and click save to the far right
Repeat for each additional zip code that you'd like to offer free local pick up for.
Once you're done with all of your zip codes, click "Save" at the top right to commit your changes.
As orders come in - if the delivery location is to one of the entered Zip codes, then the shopper will have the option of selecting free local pickup as desired.
---
Similar Questions
Can I offer free local shipping?
How do I give the option for In store pick up?
How do I use the Custom by Zip custom shipping method?
---