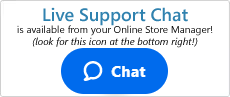 3rd Party Support Policy
Your Shift4Shop store can be connected to serveral 3rd party services that are intended to simplify and streamiline many common ecommerce functions like shipping processes, order management, customer management, marketing processes, site searches and many other functions.
The majority of these 3rd party integrations are provided through the use of API connections; where the 3rd party provider develops and configures their program to connect to your store via our (Shift4Shop's) proprietary API services.
As such, troubleshooting and supporting the 3rd party application is something Shift4Shop can only perform on a limited basis. Our scope of support on 3rd party applications will mostly be limited to testing API connectivity as well as directing you to where login credentials and/or Shift4Shop specific settings can be configured.
When it comes to configuring and troubleshooting errors with the 3rd party software itself, we will need you to direct your concerns and support questions to the product's respective developer. Should the need arise for Shift4Shop's programmers to get involved in the matter, the individual software provider will contact our developers directly to consult or resolve the problem.
Thank you for your understanding.
---