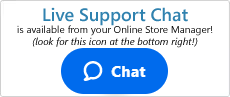 Why am I getting a DMCA notice about my store?
The Digital Millenium Copyright Act (DMCA) is a United States copywrite law which in part provides legal protection to manufacturers, distributors and commercial businesses from having their copyrighted material used without their permission.
As a Software as a Service (SaaS) provider, Shift4Shop offers a platform where online merchants can set up their eCommerce stores and sell products. As such, we have many merchants selling many commercially available products through their online stores hosted on our services. We take it upon good faith that Shift4Shop merchants are authorized and legally allowed to sell their commerical products - meaning that they have been given express permission by the trademark holders of those products to sell the items and showcase their product images when applicable.
Occasionally, we (Shift4Shop) or our web service provider(s) will receive a DMCA complaint in regards to a site hosted on our service. If/When this occurs, we will send the details of the complaint (as presented by the owner of the copyrighted material or their legal representative) and a link to this KB article, to the registered contact of the store with our service.
When you receive details of the DMCA complaint against your site, we expect you to remove or hide the offending materials from your site within 48-hours*of receiving the message.
**If the products are still listed on your store and accessible after this 48-hour period has lapsed, Shift4Shop will have no other option but to disable your site until compliance is met.
Once compliance to the DMCA notice is met, please let us know so we may notate the outcome on your account and ensure your service is not interrupted.
Please Note:
Shift4Shop offers absolutely no arbitration in the matter between you (merchant) or the copyright owner (DMCA plaintiff). If you feel the DMCA complaint against your site is in error, you will be required to submit a DMCA Counter Notification (See attached PDF) to us stating your declaration, under penalty of perjury, of your position in the matter.
Upon Completion of the DMCA Counter Notification, we will submit the information to the complaining party stating your claim. After which it will be their responsibility to pursue legal action as needed. If no legal action is presented within 15 business days, you may resume display of the materials in question.
Please see the attached PDF for the DMCA counter notification letter.
Thank you.
---