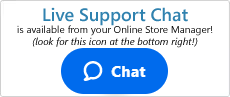 How can I use the "Shipping will be calculated later" feature?
In some cases, your configured shipping methods may not be applicable to the customer's circumstances, whether it is due to their particular area of delivery or purchase items in general. For example, you may have shipping methods that only apply to a maximum weight range of 150lbs while your customer is ordering 200lbs. In a case like this, no shipping method would apply to the purchase and the cart would generate an error stating that no shipping method could be found.
The "Shipping will be Calculated Later" setting would allow for a simple fail-over message stating that shipping will be calculated later in order to allow the checkout process to continue. Then, after the order is placed, you can charge the customer separately for shipping as needed.
This control can be access from the Shift4Shop shipping settings. To access shipping settings from your Shift4Shop control panel:
Use the left hand navigation menu and go to Settings >Shipping.
Within the "Carrier Settings" area, click on the "Enter Settings" button.
Next, click on the "+Shipping Settings" link
And place a mark in the "Allow 'Shipping will be calculated later'" setting.
Selecting this option will then apply a simple "Shipping will be calculated later" Shipping Message to your customer's cart during checkout (if no shipping method is found).
Tip
The wording of the message can be edited by going to Settings >Design >Store Language and editing the text for the "shipping-fail" parameter.
---