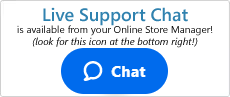 How do I add a gift wrapping option to my products?
Gift Wrapping
If you'd like to give your shoppers the option of adding a Gift Wrapping to be combined and shipped with the product, simply add it as an option to the product(s).
Important
The following information pertains to creating an option on products that offer gift wrapping for the individual items. This is not to be confused with our Gift Wapping Module which applies Gift Wrapping selections to your entire catalog of items. Please click here for information regarding the store-wide module.
Go to Products >Product List
Find the product that you'd like to edit and click on its name
(You can also look to the far right of the item and click on its "Action >Edit" button)
Click on the Options Tab located along the top of the product information pages
Then click the "+Add New" button located towards the top right
Type in the Option label's name. For example, "Add Gift Wrapping"
Type in the Sorting number – this is used to control how your options display if you have more than one for the same product.
Lower numbers will display before higher numbers.
Using the "Type" drop down menu, select the one labeled "Radio"
Tip
You can also use Dropdown, or even Drop Image as the selection type; if you'd like to showcase different gift wrapping swatches to display to the shopper.
For the purposes of this article, we'll be using Radio button
Check the Required checkbox if you would like this option to be selected in order for the product to be added to the shopping cart.
Click the "Add" button to add the Option Label
Once you've added the Option Label, you will see it listed in the Options Tab. Now, we'll go over the steps involved in setting up the individual option sets - in other words, the actual selections - for that option.
Click on the "Add [option name]" link to proceed
[option name] will reflect whatever you named the option label.
Enter a description for the individual Option such as "Gift Wrap Options"
If the option incurs any additional cost, enter that amount in the "Value" field.
Click Add to complete the set up for the option set
Your product will now include a selectable option that can be used to add a personalized message as shown below.
---