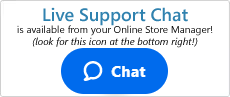 Can I have more than one domain name forward to my Shift4Shop store?
Issue
Store owners would like to have multiple versions of their domain redirect to their Shift4Shop store.
Solution
Use your alternate domain's registrar or DNS host to forward the domain.
Shift4Shop merchants are limited to one domain per Shift4Shop account. Typically this is the domain name used when you sign up for service. While you are able to change your Shift4Shop domain name as needed, you are still limited to only one domain per account. However, there are ways of having your other domains resolve and forward to your Shift4Shop store's domain through domain forwarding.
This can be useful if you would like to have alternate versions of your domain direct visitors to your Shift4Shop store. In other words, let's say your Shift4Shop store is located at www.mystoredomain.com. But, you also registered my-store-domain.com (with hyphens) on your own and you'd like to have visitors entering that URL still reach your Shift4Shop store. Perhaps, instead of hyphens, your alternate domain is .net or .org and you'd like to have visitors using those versions of the name reach your store.
Most domain registrars allow forwarding of one domain to another. Some services refer to the function as "forwarding" while others may refer to it as "Redirecting," but the concept is basically the same; forward domain-A to domain-B. So if you go to the registration service for your alternate domain (i.e. GoDaddy, Register.com, etc), you can use their forwarding method to have alternate domains resolve to your Shift4Shop store's domain.
It is important to note however, that this will act only as a forward to your Shift4Shop store's domain. Someone going to the alternate domain will be redirected to your Shift4Shop store's URL (typing domainA into the browser will direct and change the URL to reflect domainB). It will not let the alternate domains work as the store URL because - as mentioned - you are limited to only one domain per store.
Tip
When forwarding domains in this fashion, it is important to have both Canonical URLs and IP Canonicalization enabled for your Shift4Shop store for SEO purposes.
To configure these two settings, go to Marketing >SEO Tools in your Shift4Shop Online Store Manager and place a mark in the following checkboxes:
Enable Canonical URLs
IP Canonicalization
More than likely these will already be marked, but if they are not, and you are forwarding a domain to your Shift4Shop store, it's important to have them enabled.
---
What about CNAMES, A Records, and Masked Forwarding?
Aside from forwarding the domain as mentioned above, there are alternate DNS management tools available that can achieve similar results. However, it is not recommended to use them due to limitations with how they would work with your store's domain. The best tool at your disposal would be forwarding the domain.
---