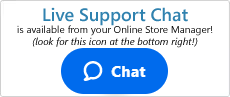 What does "Custom Shipping" on my Phone Orders do ?
When placing a Phone Order in your Shift4Shop Online Store Manager, as you arrive to the shipping methods portion of the process, the store will populate the order with its applicable shipping methods. Along with the regular shipping methods, the Phone Order will also contain a shipping method labeled "Custom Shipping.""
The Custom Shipping method shown will allow you to manually add a shipping charge to the phone order. Simply enter a name for the method, and a cost and it will be applied to the order when you click on the "Continue" button and proceed with the order.
Note:
This will not create a new shipping method on the entire store (to be used again later) but rather a line item shipping method for that instance of the phone order itself. It is intended as a way to charge shipping "On the fly" when a phone order is being placed.
If you'd like to create a shipping method that is applicable to all phone orders automatically, simply create your shipping method and set its Customer Group to "Phone Orders"
---