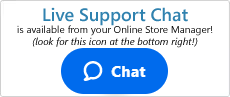 Why isn't my UPS Standard method showing on an order?
There may be times when an order - which will seemingly be eligible for UPS Standard - will not display that particular shipping method.
It is important to note the service area that UPS uses for its UPS Standard method.
To summarize, UPS Standard is a shipping method that will only show up for shipments that meet the following criteria.
Origin

48 continental United States

Destination

48 continental United States
Canada
Mexico
This means that order shipments to (or from) Alaska, Hawaii, or to US territories like Puerto Rico are not eligible for UPS Standard.
Instead, you will need to use UPS Ground, which is used for deliveries to and from all 50 states and Puerto Rico.
Note:
Please also note UPS' weight limit which is 150 lbs.
---