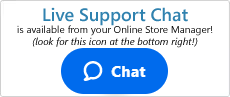 How do I change the currency used in my store?
To change the currency that your store uses, go to Settings >General >Store Settings. Once there, you will see "Store Standards" at the very bottom of the page. Within this section you will see:
Currency Symbol
Use this field to specify the desired currency symbol for your store. (i.e. $, €, or ¥)
Currency Code
Use this dropdown to specify the standard 3 letter currency code that will be used for your online payment gateway. For example:

USD - US Dollar
CAD - Canadian Dollar
GBP - British Pound
EUR - Euro
Set these to your specific needs and click "Save" at the top right to commit your changes.
---