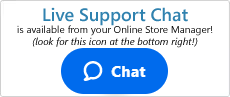 Can I Move an Order Out of the Cancel Status?
So there you are, watching the big game while processing orders using the store's "Batch Actions" method.
You've just finished selecting 5 new orders and, just as you're about to move them into the "Hold" queue, your team scores the winning goal! They're going to the finals! Your betting pool just cashed in BIG TIME!
Unfortunately, in your excitement, you don't realize that you accidentally moved those 5 selected orders into the store's Cancel queue instead of the hold status...
"No worries" you say to yourself as you navigate to the orders. "I'll just change the status in each order manually. Easy peasy!"
That's when you discover it...
You can't move the orders out of Canceled status!
[cue the dramatic music]
Fortunately, there IS a way to recover these orders. Here's how:
Go to Orders >Manage Orders
The orders are normally filtered on this page to show the New status orders. Directly beneath the search bar, you'll see the filter labeled "Order Status is New"
Click on the "X" to the right of the "Order Status is New" filter to remove it.
This will show all your orders at once, regardless of status.
Place a check on the orders mistakenly added to the Cancel status
Now use Batch Action (at the very bottom of the list) to move the orders to whatever queue you'd like!
And there you have it. The day is saved and your team won!
Just be more careful next time! ;-)
---