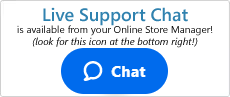 How does the Shift4Shop myWebmaster service work?
Shift4Shop's myWebmaster Service allows you to order quick fix services from Shift4Shop that you might not have the necessary experience, comfort, or time to complete on your own.
Services via myWebmaster include tasks like the following:
Standard Services

CSV

Setting up custom Product, Order, or Customer exports
Sheduling of exports
Product or Customer Imports

Store Configurations

Setting up Newsletter Smartlists
Mailing List Form Adjustments
Promotion Creation
Setting up 301 Redirects

Simple Design Fixes

Adding a favicon
Simple HTML edits to Home, Product or Category Pages
Change Background Color in CSS
Simple Font/Color Changes
Uploading Images via FTP
Bulk resizing of Images

Advanced Services

Store Copy
Google Adwords Conversion Setup
Setting up Email Accounts
3rd Party SSL Installations

Webmaster Plans

Dedicated
Five hours of service per month, with merchants limited to one job request at a time.
Personal
Twenty hours of service per month, with three job requests permitted simultaneously.
Please visit the Shift4Shop myWebmaster page for the complete list of services available.
Please note
The services offered through myWebaster are limited to quick fix types of services to update default functions and features of the Shift4Shop service.
For things that require a complete redesign or custom programming of your store, please consult with your sales representative for our custom design packages.
When you purchase a myWebmaster service from us, a representative from our webmaster team will receive the order and make the requested changes for you, or otherwise contact you if there are any questions as to what it needed.
So if you'd like to have something edited on your store but don't have the time to do it on your own, give our webmaster team a try!
---