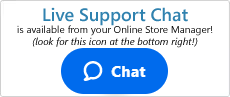 Why are my payment options not showing at checkout?
If your payment options are not displaying correctly at checkout, check the following settings:
Is Payment Module Active?
Make sure that you have at least 1 payment option defined in Settings >Payment, (click on "Select Payment" to view your methods). Ensure that the payment method is

active

by clicking on the toggle to the far right of the listing. (If green, it is turned on)
Check Payment Order Amount Ranges
Each payment option can be configured to only appear if the order amount is between a range, make sure that the range you specified is correct. For example: if you have a payment option that only displays when the order is between $10 and $20 dollars, and you try to purchase something that is $5.00, the software will not display that particular payment option.
Check Payment Country
Make sure that the country/state that you selected during checkout (billing section) is not in the payment method's exclude list. Each payment method can be configured to only show up for a specific country/state, make sure that the country/state you are using is not excluded from the payment option.
Check Payment Customer Group
If you specified a customer group, then you will need to be in that customer group for the option to appear, if this payment method is for all shoppers make sure you set the customer group to All.
For a detailed list of additional possible misconfigurations, please review our Payment Guide for more information.
---