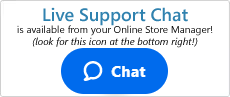 Knowledgebase
How do I specify a product's Warehouse Location or Pick Ticket?
With your Shift4Shop store, you can assign warehouse pick tickets to your individual products.
A warehouse pick ticket is simply information regarding where your product is physically located. This can make it easier for you or your warehouse staff to quickly find the product and prepare it for shipment.
---
Enabling the Feature
First, we need to enable the feature on your store. From your Shift4Shop Online Store Manager:
Go to Settings >General >Store Settings
Once there, click on the "General" tab found along the top of the page.
Look towards the bottom left of the General tab page locate "Other Options "
Mark the "Enable Warehouse Location" checkbox
Click "Save" at the top right.
---
Using the Feature
The Warehouse Information settings will be located on each of your product information tabs, directly above the extended description area.
The warehouse Information fields are as follows:
Location
Use this field to label your warehouse's location. You can use a physical street address, or a specific name for this field to help identify it on your packing slips.
Aisle
This field will designate any specific aisle in which the product resides.
Bin
Same as above, but more to pinpoint where in the aisle the item is located.
Custom
This field is reserved for any other information you might need to determine identify the product's location. For example, merchants who sell small items such as arts and craft supplies may have their warehouse location bins compartmentalized even further into slots. If this is the case, you would use the "custom" field. Otherwise, it may be left blank.
Note
None of the above fields are absolutely required to be filled in. They are simply there for situations where your warehouse locations may require some "drilling down" to get to the product. Some merchants may find that "Location" alone is sufficient.
---