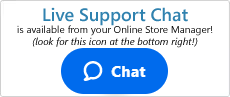 Knowledgebase
How do I set my store's default country?
When your customers reach their final checkout pages, the forms that they will fill out for billing and shipping will come pre-populated with your store's country of origin. Since the majority of your user base will likely be domestic to your store, this functionality makes it easier for your domestic customers to have their country pre-configured in their checkout process.
To set your store's country of origin, log into your Shift4Shop Online Store Manager and, using the left hand navigation menu:
Go to Settings >Shipping
Next, look towards the right of the page for the "More Options" section and click on "Country List"
This section will control which countries you will make shipping methods available to. First, make sure your default country is specified in this section. If it is not, simply select the country and "Save Changes" at the top right corner of the page.
Once again, go to Settings >Shipping
This time, look for the "Carrier Settings" section and click on its "Enter Settings" button
At the top left, click on the + icon for "Real Time Shipping Location"
In the "Real Time Shipping" section, you will set your store's origin. Normally, this is used for real-time shipping calculations with the various shiping carriers, but it also serves as your store's default country. Set your desired origin information as well as your default country in this section, and click update.
Your store's checkout pages will now automatically default to your country of origin.
---