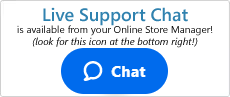 How do I run a traceroute?
A traceroute is a basic network utility/function that will display the specific route a network connection takes to reach another network. In many cases, the traceroute function can be useful in diagnosing connection problems between an end-user computer (i.e. your home computer) and an outside host (i.e. your website).
When troubleshooting issues with your Shift4Shop store such as connectivity or slowness, a traceroute can offer quite a bit of information.
To run a traceroute on a Windows based computer, please use the following steps:
Go to your computer's "Start" menu at the bottom left and go to "Run"
Note:
In latest versions of Windows, simply type "run" in the search field.)
At the Run Window, type "CMD"
This will open up a command prompt similar to the following:
At the prompt type in: "tracert [domain]" where [domain] is your store URL, then hit your ENTER key.
Note:
Make sure that the command's name is abbreviated as "tracert." and not the fully spelled out "traceroute."
Your computer will now trace the route your connection takes to reach the website.
Be on the lookout for asterisks (*) and any messages that indicate a timeout on any of the specific hops. Also be sure to note the Millisecond rates on the individual hops.
Tip:
For Macintosh please follow the instructions listed here.
---