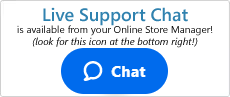 How Do I Disable the Quick Edit tab?
The Quick Edit Tab is enabled through a simple permission set at the login level, so if you'd like to disable it, please do the following:
Go to Settings >General >Administrator Access.
Find the login profile you'd like to edit and click on its Name or look to the far right of it and click on its "Action >Edit" button
Within the permissions screen, scroll down near the bottom of the page and look for the "Design" heading.
Uncheck the checkbox labeled "Admin Design Bar."
Click Save at the top right of the page.
With the above steps completed, the Quick Edit Tab will no longer show up when viewing your store as you're logged into the Online Store Manager. The same process can be repeated to re-enable it.
---