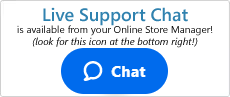 How do I revert to an original template?
Shift4Shop allows you to freely edit your site design templates. While we always recommend making proper backups of your files before applying any edits, sometimes this step may go forgotten and you will need to revert to an original version of the template. Fortunately, there are a few different ways of reverting your templates. Try the following:
Revert to Original
Go to Settings >Design >Themes & Styles. Scroll slightly down along the page, and click on the "Open Template Editor " button in the Edit Template section. You will see a listing of all the templates unique to your site's active theme. Look for the template that you'd like to revert and look to the far right to click on its "Action >Edit" button. Then, click the "Original Version" link at the bottom of the page. This will reset the template to its original configuration.
FTP
Connect to your store via FTP and proceed to your "/web/assets/templates/" folder. Select your theme folder and locate the template file you'd like to revert. Here, you can rename the file to anything different. For example, "home.html" to "home.html.OLD". By doing so, it breaks the connection to the modified file, and the store will only pull the original version from the common folder. You can always rename it back to the original filename to swap back as needed. You can also delete template file from the theme folder, but this would remove it from the folder entirely. So please keep that in mind. This also does not work for the frame.html file, so another method would need to be used.
Reinstall Theme
You can re-install the theme to overwrite any edits you may have made. For example, if you are currently using theme veniam-core, and you have made an unrecoverable edit to it, go to Settings >Design >Themes & Styles and look for the same theme (in this case veniam-core). Click on the theme and select its "Re-Install Theme" option.
As with any case where you are reverting changes, please be sure to make back-ups of the affected files before reverting them. This way you can ensure you won't lose any work that may have been done in the past.
---