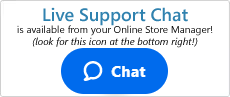 Why can't I remove categories after using the "Prevent this page from creating additional dialogs" pop up?
Issue:
After selecting the option in to "Prevent this page from creating addditional dialogs," categories can no longer be removed.
Cause:
Preventing the site from generating a pop up in this fashion will prevent the action from working correctly.
When removing categories, products and other store items from the interface, a confirmation pop up message typically appears. This confirmation pop up window (in Chrome) will also include a checkbox allowing the user to "Prevent this page from creating addditional dialogs." Marking the checkbox will keep the pop up from appearing again.
However, the confirmation is needed by the store in order to complete the removal task. Therefore, preventing the pop up from occurring prevents the store from fulfilling the action altogether.
It is recommended to never use this option on the Chrome popup window.
Additional Information
This issue is not unique to Chrome as all browsers may have a similar function to their pop-ups. However Chrome is unique in the fact that it is so prevalent and causes the majority of instances for this to happen.
Fortunately, the pop up block is session based. So, if you accidentally marked the checkbox, and lost the ability to remove the items you were trying to delete form the store, simply kog out of your Shift4Shop Online Store Manager, close and reopen the browser, and log in again to reset your login session.
---