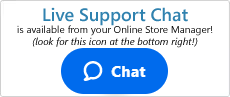 Knowledgebase
What is the Abandoned Carts Notification module?
When you go to the Modules section of the Shift4Shop Online Store Manager, you will see a module labeled "Abandoned Carts Notification."
This module allows you to send an automated email to shoppers who have begun creating an order on your store, but haven't completed it for whatever reason.
The email will act as an enticement inviting the shopper to come back to the store to complete their order.
As long as the customer's email address was entered into the store (either by them logging in or registering on your store while browsing), the Adandoned Carts Notification module will be able to send them a message.
To access this module, please use the following steps:
Log into your Shift4Shop Online Store Manager
Using the left hand navigation, go to Modules
Using the search bar at the top, type in "Abandoned Carts Notification"
If the module is not expanded, click on its + icon to expand the selection.
Then, click on the "Change Settings" link.
You will have the following settings available to you:
Enable
This checkbox will turn on the notification function
Follow Up
This drop down menu will let you select the number of hours that need to pass (with no activity), before a not completed order notification is sent. Your choices are anywhere from 1 to 120 hours.
Additional Infomation
Below the follow-up drop down there's a link labeled "Click here to edit the follow up email." This link will take you directly to the email template being used for the message so you can edit it to say whatever you'd like.
Email Log To
This field will let you specify an email address that the log wil be sent to.
Last Run
This information will show you the last time the Abandoned Cart Notification email script has run. This is included with a link to view the activity history of delivered messages.
After selecting your settings, click "Save" at the top to commit your changes.
---