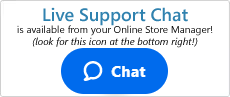 Knowledgebase
What are SmartCategories?
These special types of product categories will automatically classify products in real time based on their settings or content. Setting up a new category with the use of SmartCategories will populate it with products such as sale items, new releases, free shipping items, or a simple keyword search.
---
To set up a Smart Category:
Log into your Shift4Shop Online Store Manager and, using the left hand navigation menu:
Go to Products >Categories
Click "+Add New" to add a new category
Name your category and click "Add"
Click on the name of your newly created category
or look to the far right of it and click on the "Action >Edit" button
You will be presented with a page showing the various settings of your newly created Category. Here's where you'll have the ability to change the name of the category, add header and footer content, and configure other settings as needed.
Towards the middle right of the page, you will see a section labeled "SmartCategories™"
SmartCategories are essentially populated dynamically by your product when the product's parameters match the SmartCategory's settings. When using SmartCategories, you have 5 listing options to choose from. These are:
None
Use this to disable SmartCategories and use regular category options.
On Sale items
Use this to populate your new SmartCategory with only your "On Sale" items
Free Shipping Items
This will show only items marked as having free shipping in the SmartCategory
Top 50 New Releases
This option will populate the SmartCategory with your 50 newest items
Keyword Search
used in conjunction with the Search Keyword field located next to the drop-down menu to display your products that match the keyword you specify
(only one keyword can be used for this feature)
Note
When using SmartCategories, it is recommended to create a new category rather than using an existing one. The reason for this is because SmartCategory settings will override any products you currently have assigned to an existing category.
Also, for naming purposes, it would be helpful to name your SmartCategories according to their display properties. For example, if you plan to have a SmartCategory for your On Sale items, it is recommended to name the category "On Sale."
Special Note
SmartCategories work via the dynamic insertion functions built into your store's Shift4Shop powered software. This means that products contained within a smart category are assigned and displayed as the category is specifically called upon. However, this also means that SmartCategories will not work for external references such as the Facebook Store, Social Widget, or any other feed type of product display.
---