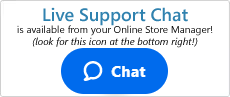 How do I use the RMA Search Function?
If you are using the Return Merchandise Authorization feature of Shift4Shop, you can review your store's RMA history with the RMA search tool located in your Orders menu.
Note:
For the purposes of this article, we will be covering the use of the RMA search function only. For specific information regarding the RMA feature itself, please refer to our online tutorial located here.
---
RMA Search
To get to the RMA search, go to Orders >Manage Returns
If your store does not have any open or pending RMA entries to process, the RMA search page will likely be blank. However, you can filter the default view to see your store's history.
To do this, simply click on the "Advanced" button located along the top of the screen (next to the search bar).
Then Select "All" for RMA Status and click Search.
You can also filter your search by the other parameters as needed including the First Name/Last Name (of the customer), their email address, and RMA number.
---