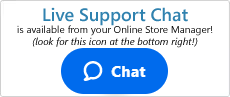 Knowledgebase
How do I edit the Order Status Queues?
As mentioned in our previous article, you can utilize the different Order Status Queues to efficiently process your incoming orders as needed.
As an added benefit, you can also edit and customize the existing status queue names (as well as add new ones) to better suit your business needs. For example, you may want to add a status queue specifically for important orders such as orders from special customers that demand a higher priority.
---
Edit Status
To edit your Status Queues log into your Shift4Shop Online Store Manager and - using the left hand navigation menu:
Go to Settings >General >Store Settings
Once there, look towards the top of the section and click on the "General" Tab
About a third of the way down the page and along the right hand side, you will see a link labeled "Edit Order Status" to see your order status options.
Aside from re-labeling the various Order Status Queues, you can also specify which queues are visible internally to your store. For example, for your business needs, you might not use the "Hold" status at all. Instead, you may want to simply make this order status not visible and remove it from the processing menus that are shown when updating order status. To do this, simply uncheck the box to the right of the order status and save your changes.
You will also have up to eight custom order statuses that can be labeled and made visible for whatever specific needs you may have.
---