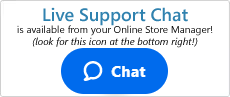 How do I Process a Credit Card Refund?
Most of the available payment gateways on Shift4Shop will allow you to void transactions or process full refunds of order charges through your Shift4Shop Online Store Manager.
Note:
Processing a refund from the Shift4Shop admin panel can only support full refunds for the order. If you need to process a partial refund, you must login to your account with your specific payment gateway and issue the refund from there.
If your particular gateway supports refunds through the Shift4Shop Online Store Manager:
Go to Orders >Manage Orders and click on the "New" tab along the top
(or whichever order status the order is in)
Click on the Invoice number of the order you would like to process the refund for
In the Transaction section, click on the "Actions >Transaction Details" link located along the far right..
Click the "Void/Refund transaction " button to process the refund.
Please Note
If you receive an error after step 4, either your payment gateway does not support refunds directly through the Shift4Shop Online Store Manager, or the transaction itself is over the timeframe limit for that particular payent gateway.
In either case, please login to your specific payment gateway's account and process the refund directly from there.
While most of the payment gateways will have a Void/Refund button, the following will not and must be processed directly through the gateway provider:
Interswitch
Klarna
NetShop (Millenium bim)
RealEx Payments
BluePay
---