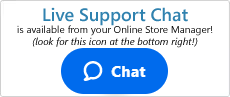 Can I import product option templates to multiple products?
Yes! If you have a product options template that you want to use for several or all of the products in your store - but you do not want to go through all of the products manually - you can Import your options from a template instead.
The process basically involves uploading a simple CSV file that contains three fields - "catalogid" and "id" - to identify the products - and "optiontemplate" to specify your option template that the products will use.
Follow These Steps
Go to Products >Product List, and look towards the top right of the page to click on the "Export/Import" button.
On the next page, look to the right hand side for the list of available Import selections.
Click on the section labeled "Options from Template."
Click the Sample File hyperlink next to Options from Template to download the sample file.
The downloaded sample file will contain three columns labeled catalogid, id and optiontemplate. You can either use the catalogid OR id columns to identify the products you wish to edit and then the optiontemplate column to specify the option template that you'd like to use.
After your edits have been made and the CSV file is saved, use the Options from Template import function to browse to your saved file and apply it to the store.
---