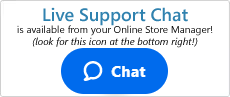 How can I change the colors/styles of my template?
Most of your site's colors and styles will be controlled by the Theme's respective Cascading Style Sheet (CSS)
To modify your site's current style sheet, use the following steps:
From your online Store Manager,
Go to Settings >Design >Themes & Styles.
Click on the "Edit look/Color (CSS)" button located along the top right hand corner of the page
You will then see a listing of each style controlled by the style sheet. Clicking on the "Action >Edit" button to any of these will allow you to make changes to the selected style itself.
After making your changes, click "Save" and review the changes on your site.
Note
For advanced users, you can also click on the "Advanced Mode" button to edit the full CSS file itself without the provided GUI interface.
---