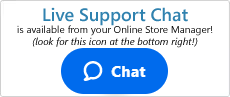 How Do I Change My Domain Name?
At some point you may need to change the domain name of your store to a different domain name. To do this:
Click here to go to our Shift4Shop Store to order the domain change.
Enter your old domain as well as your new domain in the applicable fields.
Note:
Depending on the age of your account and/or registration needs of the domain, you may incur additional charges. Please see the Domain Name Change page for more details
Once you receive notification from Shift4Shop the domain has been changed on our servers, go to the

Settings

>General >Store Settings section to add your new domain name. (Select the "Store" tab and you'll find the appropriate fields right under your store logo and email sections.)
---